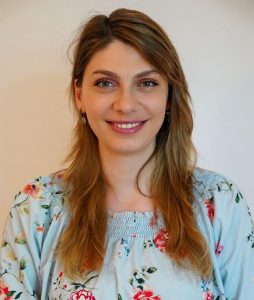 Why do people end up committing violent crime? How can we protect ourselves and prevent violent crime?
Violent crime is a topic that is rarely explored by either specialists or the general public.
In what follows, we will look at an excerpt from the life story of A.F., who was sentenced to prison for killing her husband.
"I married I. because I got pregnant. We never got along, he drank a lot and I'm sure he didn't love me, and he didn't love N., our boy, either. He was a sour man, he argued with everyone, he had no friends, he gossiped about everybody. I mostly raised the child alone and his parents are witnesses because they helped me sometimes. I endured a lot in this marriage, he offended me, he humiliated me, he came to my work place drunk, he hit my mother, not to mention the child, whom he terrorized. It went on like that for 10 years and I couldn't stand it anymore. One evening, after a fight, I saw no other way than this. I waited for him to fall asleep and hit him on the head with an ax. It's true, there was another way, just to leave him. He did not want to give me a divorce "(31 years old, no criminal record. She pleaded "guilty" during the criminal trial).
Although in the first instance we can identify several possible causes of the committed crime, it is fundamental to understand and be able to explain what really happened in the lives of these people. How did A. F., from the victim, become an aggressor? What steps and in what direction does a person take who ends up assaulting family members, friends, or strangers? What will happen next in the lives of the children?
In the present work, I aim to answer such questions and ultimately contribute to the safety of the reader and the community. In this sense, I explain what violent crime is, how it affects the life of each of us, what kind of violent crimes are more common in Romania and why, how we can protect ourselves and how we can prevent some serious crimes.
What is violent crime?
I have defined violent crime as an act committed with intent, which directly endangers the life and physical integrity of the victim and is punishable by criminal law (murder, death blows, rape, robbery). There are researchers who believe that forms of violent crime are also terrorist bombings, assaults between neighborhood gangs, injuries included in the category of corporate crime, those caused by lack of working conditions or by the encouragement of risk-taking at work (accidents produced in mines or sea platforms, contamination with microorganisms, preparation, storage or distribution of products harmful to the body, etc.).[1]
Of all types of crime, homicide is the leading cause of death globally. In 2017, more than 460,000 people were victims of interpersonal killings worldwide, which is about three times as many as the people who lost their lives in armed conflict and acts of terrorism.[2] Forms of violent crime, such as murder, rape or robbery, have a high degree of social danger and a potential for unbridled destruction on the people and communities in which they occur.
What forms of violent crime occur more often in Europe and, implicitly, in Romania?
Data from recent years show that the number of homicides has decreased at national and European level while that of rapes has increased. At the same time, the incidence of crimes against property has decreased in Europe and increased in Romania (see Table 1). Therefore, rape and robbery are crimes that occur much more often in Romania than in Europe.
Table 1: Evolution of violent crime at European and national level
| | | |
| --- | --- | --- |
| | Europe 2008-2018 | Romania 2004-2019 |
| Crime | Trend | Trend |
| Murder | ↓ | ↓ |
| Rape | ↑ | ↑↑ |
| Robbery | ↓ | ↑↑ |
Source: author's calculations, based on data recorded by Eurostat and the General Inspectorate of Romanian Police
Why do people end up committing violent crime?
In our book (Mihaiu, 2021), we respond to the challenge of analyzing the causes of this social problem from a multidisciplinary perspective, drawing both on concepts from biocriminology and behavioral genetics, criminology, psychology and psychopathology, sociology and public health (see Figure 1). As an element of novelty, the factors and mechanisms that favor such crimes are presented, making a comparative analysis between the literature and my own research, both with people who have committed crimes with violence and with practitioners in the field.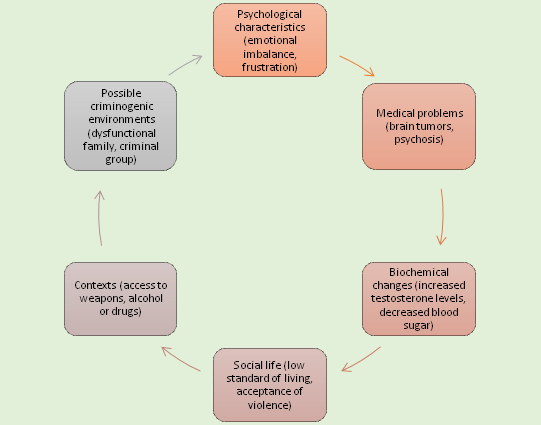 As we can see, there are countless conditions that can lead to murder, rape, or robbery. However, we must be very careful in analysing them, because it is possible that similar contexts would not prompt other people in any way to commit a crime. From this perspective, the book makes an original contribution to the nuanced understanding of violent crime, based on the life stories studied.
How can we protect ourselves and prevent violent crime?
In the book we will discover several solutions and recommendations:
At the individual level: informing and raising awareness of the risks of a violent crime (avoiding people and contexts that can become violent, reducing the consumption of alcohol or other substances that affect discernment, contacting those who can provide help in case of emergency, such as police or social workers);
At the family level – the area where violence is frequently learned and manifested: (supporting victims and perpetrators to overcome problems related to violence, supporting children in the process of education and adoption of a healthy lifestyle, timely intervention in situations of repeated violence, with serious consequences);
At the societal level: developing social and public safety services in disadvantaged areas, especially rural ones (NGOs, police stations, social assistance centers), increasing access to the labor market and social inclusion of vulnerable groups;
At the level of prevention and control institutions: social reintegration programs for minors and young people (special working tools for very violent persons, measures for increasing the level of education of those in custody, measures for supporting former detainees to return to the free community).
Bibliography:
Mihaiu Simona (2021), Violent crime. Social significance and implications, Pro Universitaria Publishing House, Bucharest.
EUROSTAT, Income and living conditions, Quality of life, Recorded offenses by offense category – police data. Online: https://ec.europa.eu/eurostat/cache/metadata/en/crim_off_cat_esms.htm, accessed 09.09.2020.
[1] Levi, M. and Maguire, M. (2002). Violent Crimes in Maguire, M., Morgan, R. and Reiner, R. (eds.) The Oxford Handbook of Criminology. UK: Oxford University Press.
MIA, GIRP, Criminal Record, Statistics and Operational Records Directorate, Online: https://www.politiaromana.ro/ro/utile/statistici-evaluari/evaluari, accessed 12.01.2021.
[2] United Nations Office on Drugs and Crime (UNODC) (2019), Global Study on Homicide. Online: https://www.unodc.org/documents/data-and-analysis/gsh/Booklet1.pdf, accessed 10.08.2020.
UNODC (2019), Global Study on Homicide. Online: https://www.unodc.org/documents/data-and-analysis/gsh/Booklet1.pdf, accessed 10.08.2020.